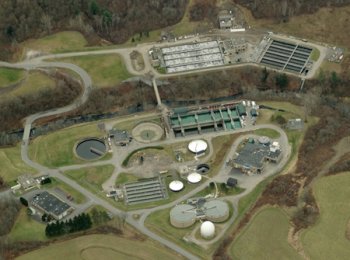 The Gloversville-Johnstown Joint Wastewater Treatment Facility (GJJWTF) is capable of treating up to 13.8 million gallons/day (MGD) of domestic sanitary sewage and industrial wastewater. The facility treats all wastewater generated by the residents of the cities of Gloversville and Johnstown (approximately 25,000 people), plus two dozen industries, and approximately 100 users outside the corporate limits of the two cities.
The facility is currently operated by twenty-one (21) employees. Oversight of daily operations is accomplished by the Gloversville-Johnstown Joint Sewer Board consisting of six (6) members, three from each city. The Joint Sewer Board meets at 7:00 P.M. on the second Wednesday of the month at the Gloversville-Johnstown Joint Wastewater Treatment Facility Board Room, 191 Union Avenue, Johnstown, New York.

Review Our Year 2022 Annual Report. It highlights significant projects completed at the facility during 2022.

2023 Gloversville-Johnstown
Joint Sewer Board
Bobbi Trudel: Chair
Christopher Vose
Wrandy Siarkowski
Eric Parker
Donald Schwartz
John Rizzo

Sewer Board Meeting Minutes
City of Gloversville Mayor:
Honorable Vincent DeSantis
City of Johnstown Mayor
Honorable Amy Praught